Home
»
Uncategorized
» LaCroix Sparkling Water Is A Billion Dollar Brand Hiding Within A Billion Dollar Market Cap Company – 45% Upside
LaCroix Sparkling Water Is A Billion Dollar Brand Hiding Within A Billion Dollar Market Cap Company – 45% Upside
August 12, 2015

Posted by Nat Stewart

under

Uncategorized
Summary
LaCroix is the market leading, fastest growing brand in the sparkling water segment – few investors realize what this means.
Recent, significant media coverage of the LaCroix brand confirms the growth story.
LaCroix sales volume is on the threshold of "breaking through" and creating top line sales growth at National Beverage – I expect this to occur in fiscal year 2016.
Expect a special dividend of between $2 and $3 this year – something very similar in size to the $2.55 paid out in 2012.
I see 45% intermediate-term upside for National Beverage shareholders.
Reporting from my vacation in Colorado:
While I had planned to take the full week off and complete this article upon my return to Chicago, the extent to which LaCroix seems to have caught on as a phenomenon in the Denver area (just as it has in Chicago), has left me too excited to wait. After months of collecting notes, articles and references, I have decided to put my "fingers to the keyboard."
From under-the-radar growth story to full market recognition
If fiscal year 2015 was a year of growth, testing and development for the LaCroix brand, I am convinced that fiscal year 2016 will be the "breakout" year – the year when LaCroix will be fully and widely recognized as the fastest growing, market leading brand in sparkling water – a beverage segment that is expected to grow at a compound rate of 17% over the next five years.
This article will be a continuation of my prior coverage of National Beverage (NASDAQ:FIZZ). It will be tightly focused on National Beverage's LaCroix brand, as I believe this story is the most critical element to understanding National Beverage's value.
Recent attention in the mainstream media confirms the LaCroix story – here is a sampling of recent headlines
How LaCroix Beat Coke and Pepsi in the sparkling water wars published just this morning at Bloomberg Business. Here is a choice quote:
When big brands such as Coca-Cola and Nestlé started introducing their own lines of lightly flavored sparkling water two years ago, the plan was to capitalize on increasing demand for carbonated drinks without calories or chemicals. The sparkling water segment was expanding, so it should've been an easy win. But there was one problem: Everyone was already drinking LaCroix.
This is a terrific article that perhaps better than any others I have seen describes the way in which LaCroix has captured consumer loyalty. In my local supermarket, the new "Big Cola" competitor was recently downgraded to a small, almost invisible position on the shelfs – consumers have already made their choice, and it is LaCroix.
"How Seltzer Water Became cooler than Coke" appeared in The Washington Post on July 16. Here is a key quote:
The shifting tides have made millions for small fizzmakers long overshadowed by the soda aisle titans. Sales of LaCroix Sparkling Water, with its rainbow-neon cans, have nearly tripled since 2009, to $175 million, industry data show.
I was very intrigued by the sales and growth figures mentioned in this article, as I have never seen them broken out before – National Beverage has yet to do this in their financial reporting. When I contacted National Beverage's IR department in order to confirm these figures, they noted that the citation appeared to be from industry data that is not comprehensive. I was excited to hear this, as I have heard revenue estimates for LaCroix that are significantly higher than the $175 million figure contained within this article.
Regardless, the fact that the data source used in the article (whatever it was) showed 200% sales growth within 5 years is a tremendous positive for the brand's value. (Note – a version of this article titled "How something as tasteless as seltzer water won America's heart" appeared in the Chicago Tribune on July 17, 2015).
"Nine cocktails made with LaCroix, a sparkling water with a cult following" was published in Gizmodo (a popular tech oriented website) on July 17, 2015.
This article was forwarded to me by a friend who works in the technology industry, and it also struck a nerve. Just weeks earlier, my wife's best friend had invited her and a group of other ladies over to try her new favorite cocktail. The cocktail was a mix of white wine, fresh fruit… and you guessed it, LaCroix Sparkling Water – If I recall correctly, the Peach-Pear flavor.
Indeed, in my neighborhood – which has been called one of America's hottest neighborhoods, LaCroix is literally everywhere. The amazing thing to me is that people talk about it. LaCroix has become an important and meaningful brand within the context of people's lives – particularly as a reflection of the desire to become healthier and to choose more natural products.
Here is another example. Just last week, a friend who lives in our building told me that he and his wife were going to Costco (NASDAQ:COST), and then they would, "head to Whole Foods (NASDAQ:WFM) to stock up on our favorite LaCroix flavor – they don't sell it at Costco." Note, the local Whole Foods is not convenient to Costco – it is a significant detour through bad traffic conditions. Talk about brand loyalty!
While some might discount these "boots on the ground" or "Peter Lynch" style observations, to me they are extremely meaningful. It suggests to me that LaCroix has become something more than just one of the many sparkling water brands. LaCroix defines the segment as market leader in both sales volume and (more importantly) consumer mind share.
"Letter of recommendation: LaCroix Sparkling Water" appeared in the New York Times Magazine on March 3, 2015.
Once again, the theme of drinking LaCroix as an alternative to less healthy habits (in this case, as an alternative to drinking alcohol) emerges. And once again, this story is confirmed by many personal observations. Here is just one example. About one month ago, I stepped onto my building's elevator to find a 30 something year old guy carrying multiple cases of LaCroix Cran-Raspberry in each arm. Naturally, I was curious. I asked, "Are you taking those in to work?" He answered, "Yes, I am… I have been drinking tons of this stuff since I stopped drinking Diet Coke six months ago." He then volunteered, "Diet coke is horrible… It's toxic! Stay away from that stuff."
Consumers are looking for "Natural" ingredients, not the latest bio or chemically engineered artificial sweetener
While the tone of my neighbor's comment was a bit harsh, I think that it accurately reflects the mentality of many consumers at this moment in time. People are turning away from overly engineered, "artificial" products, and towards natural ingredients and flavors. For those unfamiliar with this theme, Fortune Magazine did an excellent article on it titled, "The War On Big Food" by Beth Kowitt. In my opinion, LaCroix's 100% natural, "nothing artificial" or (as the company says) "Innocent" philosophy is perfectly in step with this massive, industry-shaping trend.
"LaCroix Sparkling Water Is Taking Over the World & That's Fine with Me" published last week on "The Kitchn." Here is a representative quote from the article:
When someone comes over and I say, "Want something to drink? We have some LaCroix," nobody ever says, "What's that?" Somehow the sparkling water has become a Thing, without any splashy ad campaigns or celebrity endorsements. Have you noticed it too?
I liked this observation because it perfectly matches the observations that I have made about the brand. Without the aid of a massive advertising budget or celebrity endorsers, LaCroix has quietly become the consumer's choice in one of the fastest growing segments of the beverage industry.
LaCroix's new NiCola variety was chosen as "One of the hottest food trends of 2015" by CNN.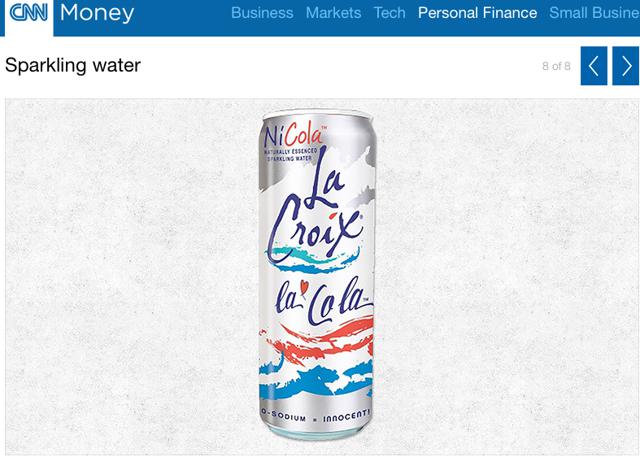 The article states,
People love the idea of a carbonated beverage, but they don't want all the sweeteners," said Zegler. She said more companies have been focusing on sparkling water this year, offering up new flavors and packaging. For example, La Croix recently introduced NiCola in the Chicago market, which it describes as cola-tasting sparkling water with no calories, sodium or sweeteners.
Speaking of growth, Let's look at a graphic contained within a recent issue of Beverage-Digest's "The Green Sheet," a trade publication within the beverage industry: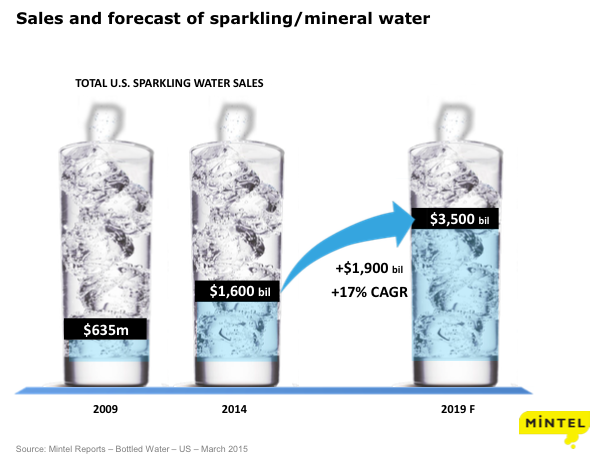 Current projections suggest that after almost tripling between 2009 and 2014, sparkling water sales are projected to grow at a 17% compound rate between now and full-year 2019. Consider this quote taken from the same issue of "The Green Sheet."
As consumers continue to migrate away from CSDs and other sugary drinks, sparkling water is poised to fill the void left by these types of beverages… The most significant brand growth during the sales period occurred in the sparkling/mineral water category, underscoring the growing popularity of sparkling water as consumers migrate away from sugary beverages. National Beverages Corp.'s LaCroix gained 37.3%…. National Beverages Corp.'s LaCroix increased sales more than any other brand in the category. The brand's most recent extension is Curate, in three flavors: cherry lime, apple berry, and pineapple strawberry, in new tall-can packaging.
"The Green Sheet" also estimated that LaCroix's market share in Sparkling Water is 26% – nearly double that of its closest competitor.
How much is the market leading position in this growing segment worth – at a time when mainstream soda pop sales are on the decline? This is the question that investors need to be asking.
How has the LaCroix growth story managed to stay relatively hidden?
LaCroix is one brand within a larger company, National Beverage. The LaCroix sales growth has been offset by a managed decline in the company's conventional "soda pop" brands. I call it "managed" because National Beverage has effectively "re-engineered" itself. Just a few years ago, it was primarily a purveyor of sugary, brightly colored soda pop. Now, most of the company's value is contained within its healthier beverage line – beverages intent on meeting the current consumer taste for healthier, "natural" products.
Here is an analogy: While a caterpillar is transforming into a butterfly, the observer does not see the cocoon grow. Rather, the transformation is taking place internally. It will only be seen when the butterfly succeeds in "breaking out" of the cocoon. The same is true for LaCroix's growth within the National Beverage.
I believe that National Beverage's sales mix is fast approaching the point where the growth of LaCroix will overwhelm the managed decline/transition of the soda pop brands. When this occurs, we will see top line sales growth that might surprise the market – the market will finally begin to recognize that the LaCroix brand is one of the most significant growth stories in the beverage industry.
Rounding out the sparkling water lineup – A new, 100% natural Shasta
In a recent press release, CEO Nick Caporella stated:
Our Company is the leader in developing healthier soft drinks and our new Shasta Sparkling Water replicates Shasta's wonderful soft drink flavors in essence and taste! Yes no sweeteners, no sodium, no calories and no guilt! With this introduction . . . the entire sparkling water value spectrum can be serviced with National Beverage products!
This quote explains National Beverage's "sparkling" strategy. LaCroix is and will continue to be the core brand. The new Shasta will round out the "sparkling" offering, most likely in the discount or value segment – those looking for a sparkling water, yet still craving more traditional "soda pop" flavors. While this product is not yet on the market, I believe that it looks very promising. Here is a graphical image of the new Shasta product taken from the 2014 annual report: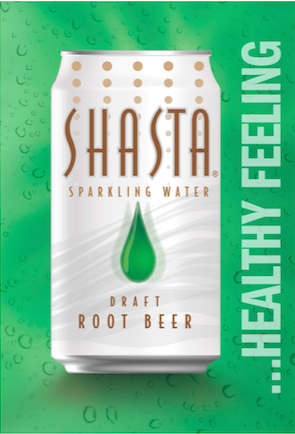 I suspect that we will get an updated view of this and other new products in this year's annual report, which will be out soon.
Did the Vitaminwater public relations disaster stunt "Big Cola's" strategic ambitions?
In 2007, Coca-Cola (NYSE:KO) purchased the maker of Vitaminwater for $4.1 Billion. I have long considered this acquisition to be a demonstration of how valuable small, growing brands can be to large, multinational companies.
Yet in spite of this, the Vitaminwater acquisition is not a great analogy for LaCroix. Here is the problem. In some ways, Vitaminwater ended up being a disaster for Coca-Cola. As a result of the acquisition, Coca-Cola was subject to a consumer protection lawsuit as well as substantial media backlash (see here and here). It even became the butt of jokes on the very popular, opinion-leading Colbert Report.
The problem was that many consumers believed that the "Vitaminwater" brand name and marketing strategy implied that the product was a healthful, vitamin-based supplement or tonic.
The truth is, of course, that Vitaminwater is a sugar-beverage that contains an insignificant amount of vitamins, but a significant amount of conventional sweetener. A bottle of Vitaminwater has almost as many calories as a can of conventional Coca-Cola.
Vitaminwater's brand weakness highlight's the LaCroix brand's strength
The good news is that the weakness of the Vitaminwater brand highlights the strength of the LaCroix brand. The LaCroix brand message is fundamentally honest. It contains no false promises or misleading statements.
Whereas Vitaminwater was perceived as healthy based upon its supposed vitamin content, LaCroix is perceived as healthy due to what it does not contain. LaCroix contains only sparkling, carbonated water and small amounts of natural flavoring – it could never be confused with a vitamin tonic that promises unproven "health benefits." In addition, all LaCroix beverages are calorie free and contain zero sweetener. In other words, LaCroix will never contribute to the obesity crisis. My question is: How much could this "consumer-based" credibility be worth to one of the major beverage companies?
Indeed, LaCroix might play a substantial role in solving the health crisis by offering a truly healthier beverage alternative. Artificial sweeteners, by the way, have their own set of serious problems. Recent research suggests that they too might be contributing to the obesity crisis.
My belief is that the Vitaminwater "fiasco" might have conditioned the large beverage companies into becoming overly conservative in their approach. Large multi-national corporations are not, after all, known for entrepreneurial decision-making. The good news is that for National Beverage shareholders, I don't think that it will end up mattering that much.
I see it this way: The longer potential acquirers wait, the more one of them will have to pay – and the more the others will lose by not acting first. In other words, National Beverage shareholders will win as the LaCroix brand value continues to compound, regardless of the action (or inaction) of the major food/beverage companies in the short to intermediate term.
I am expecting a special dividend of between $2 and $3 per share in 2015
This article is highly focused on developments with the LaCroix brand – yet no article on National Beverage would be complete without mentioning special dividends – the company's long-time secret weapon for generating shareholder returns. Based upon the current cash balance, credit capacity, and the company's desire to maintain a conservative financial position, I am expecting a special dividend this year of right around $2.55 per share – very similar in size to the last special dividend that was announced at the end of 2012.
I have read a few comments that claim National Beverage is not ready to pay a special dividend this year, as the cash balance is too low. These observers are not factoring in the company's ability to tap into its low cost credit facility, as it did the last time it paid a special dividend.
What is LaCroix's current brand value?
As we have not yet seen official numbers and growth projections from the company, it is difficult to pin down. Eager to get feedback and crosscheck my own estimates, I consulted with one of the stingiest value investors (A value-focused hedge fund manager) that I know. His estimate for LaCroix's current brand value is something approaching $800 Million. Not bad. My next "crosscheck" was with another fund manger – this time one that focuses on special situation investing. This fellow has been following National Beverage and LaCroix closely for some time. His current estimate for LaCroix's brand value is around $900 million.
My own current value estimate for LaCroix's brand value is just over $1 Billion – In other words, I believe that the LaCroix brand is equal in value to National Beverage's entire market capitalization. Add in $500 million for the remaining brands and bottling assets, and the total value of the company is right around 1.6 Billion – or just over $34 per share. While I realize that some will believe that this figure is a stretch, I disagree.
A few years ago, many readers felt that my $25 per share price target for National Beverage was a stretch – yet less than one year later, National Beverage's share price had surpassed that level. I believe that the key will be found by monitoring performance over the next year. If the company is able to achieve top line sales growth, I believe that my target will come into play much more quickly than most investors now consider possible.
A rough valuation framework – What investors might reasonably expect:
Let's take the average of the three valuation estimates of the LaCroix brand (mine, and the two fund managers I consulted with). That comes to $933M ((800+900+1100)/3). Let's assume that the growth prospects for the sparkling water segment are 17% per year (as projected by Beverage Digest). Extend this growth rate out five years and apply it to our estimate of LaCroix's current value, and we get a value of just over $2.05B. My (very) rough valuation estimate is this: I believe that National Beverage shareholders will ultimately realize a value for the LaCroix Brand of somewhere between $1B and $2.05B.
LaCroix's brand value will not be static
Keep in mind, the LaCroix value story is not static. As the LaCroix brand and the entire sparkling water segment continue to grow, the present value of LaCroix will grow along with it. As the market leader, I believe that its value will compound at a significantly faster rate than the overall sparkling water segment.
If National Beverage or its key brand LaCroix is not acquired within the next 24 months, I would not be surprised if I end up needing to raise my price target once again – perhaps to something north of $40 per share. If it is acquired, I strongly suspect that shareholders will be in for a nice surprise. Either way, I believe that shareholders will win.
Conclusion:
My current intermediate-term price target for National Beverage is $34 per share. My strategic implementation method is to buy in dips.
Disclosure: I am/we are long FIZZ.